Dairy
The Lancaster Vet Clinic is committed to servicing all your dairy herd management and production needs. We are able to care for your dairy herd so your cows are milking at top production. We understand the large investment you have made in your dairy cattle and farm, and we will work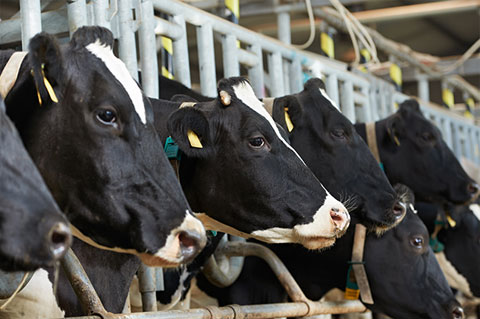 with you to keep your livestock in good health.
Calfhood vaccinations and dehorning
Pregnancy checks
Mastitis control
Control of foot rot and hoof diseases
Infusing cows
Reproduction efficiency
Johnes' disease control
Chute work
Our veterinarians specialize in preventative herd management, calf care, and pregnancy detection. We have two ultrasound machines to help our producers by finding pregnancies, uterine infections, ovarian structures and abnormalities such as cysts. We also provide sex determination of the fetus between 55 and 90 days of gestation. Our clinic provides Dairy Comp 305 and DHIA statistical analysis. Call us with any concerns regarding milk quality, meat quality, mastitis, or calf care. We have printable health protocols, treatment schedules and vaccination recommendations also available.
Producer training and meetings are provided yearly along with a monthly informational newsletter. If you are considering an expanding your operation, please contact us for information on facilities, waste management, transition cow management, and cow care during expansion. We believe that prevention is the key to sick cow success, so contact us for protocols that will help prevent displaced abomasums, pneumonia, mastitis, and metritis.
We know heifers may have a difficult time calving, cows will get milk fever, and all kinds of emergencies come up, so we are on call 24 hours. We serve the greater Lancaster Wisconsin area and travel throughout much of Grant County, so contact us for your dairy herd veterinary services. 608-723-6366