Cats
Cats may be the most popular pet in the world. The veterinarians and staff at the Lancaster Vet Clinic recommend annual exams for your cat.
Call 608-723-6366 to schedule an appointment for your cat or kitten.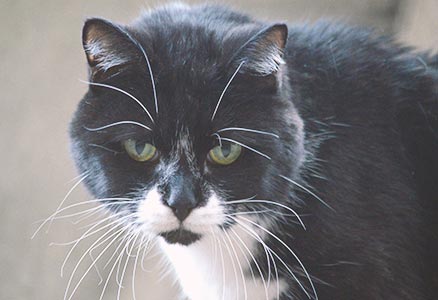 Given proper care from the time they are born, indoor cats typically live 14 to 20 years. Wonderful companion animals, cats offer comfort through the familiar rubbing against your leg and curling up in your lap. Their playful antics can be humorous and encouraging to everyone.
Kittens lose the antibodies provided by the mother's milk when they are weaned. They become more susceptible to illness and should be vaccinated promptly. Kittens need to be immunized for upper respiratory and conjunctivitis vaccines. Kittens should be checked for ear mites, retained baby teeth and heart murmurs. We recommend feline leukemia/FIV testing at 6 months of age and spend time discussing flea treatment, ear mite and parasite prevention. We recommend yearly teeth cleaning starting at three years of age. Please contact us for options other than declawing your cat!
We want your cat to live a long healthy life, so we will discuss healthcare issues such as a balanced diet and proper nutrition, litter-box training and controlling parasites. Cats should be spayed or neutered to control population and to lessen aggressive behavior. We will work with the owners to develop an annual healthcare plan to make sure vaccinations are up-to-date and to examine the general health of the cat.
Mondays: 7 am - 7 pm
Tues-Fri: 7 am - 5 pm
Saturday: 7 am - Noon